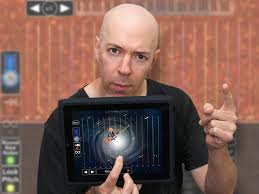 Jordan Rudess is not only a virtuoso musician known for his role of keyboard wizard in prog rock band Dream Theater but a visionary man who is always looking for the last toy into his rig.
Rudess is well know for introducing new and innovative tools into his equipment. He uses a lot of devices in every rig. From a primitive Korg KAOS Pad midi controller to a simply iPad which he uses as an analog synthetizer. In fact, Jordan Rudess is one of the few musician who has published his own line of digital Apps in iTunes store, being the  Winner of Best App Ever 2010 Award for Best Musical iPad App. Also, anybody can enjoy Rudes´s Apps in his own online shop for Mac and Android devices.
For a low price, the magic of The Wizard inside our iPad.
Also, Jordan is well known for his good sense of humour so it is not a surprise to find his Apps very interesting and fun as it combine nice and vivid graphic designs with surprising editing tools.
This proves that you can be an excellent musician with a wide and long-live career and be a restless searcher of  the new advances in technologies applied to the world of music. We are sure that Jordan Rudess won´t stop here. He will keep on surprising us with new and interesting developments. For a low price, the magic of The Wizard inside our iPad.
Check Jordan Rudes site here.